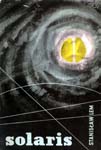 A new translation of "Solaris" is ready!

Previous translation was remotely related to the children's "broken telephone game"; initially the book was translated from Polish into French. Then the French text served as a basis for the English edition.

The new meticulous translation is the work of Bill Johnston, a professor of Comparative Literature at Indiana University. "Solaris" soon will be available as an Audible audio-book. During the second half of 2011 – also as an e-book.

The question of publication in book form lies in the hands of the right holder to volume edition.
Newcomer

At nineteen hundred hours ship's time I climbed down the metal ladder past the bays on either side into the capsule. Inside, there was just enough room to raise my elbows. After I attached the end of the cables into the port jutting from the side of the capsule, my space suit filled with air and from that point on I couldn't make the slightest movement. I stood, or rather hung suspended, in a bed of air, all of one piece with my metal shell.
Raising my eyes, through the convex porthole I could see the walls of the bay and higher up, leaning in, Moddard's face. It quickly disappeared and everything went dark as the heavy protective cone was put in place from above. I heard the eight-times-repeated whirr of the electric motors tightening the screws. Then the hiss of air entering the shock absorbers. My eyes were getting using to the dark. I could already make out the pale green shape of the only gauge.
"Ready, Kelvin?" I heard in my headset.
"Ready, Moddard," I replied.
"Don't worry about a thing. The Station'll bring you in," he said. "Bon voyage!"
Before I could answer, there was a rasping sound overhead and the capsule shook. I tensed my muscles instinctively, but nothing else happened.
"When do I take off?" I asked, hearing a rustling noise like fine grains of sand falling on a diaphragm.
"You're already in flight, Kelvin. Be well!" came Moddard's voice in my ear. (...)
(Solaris, translated by Bill Johnston)