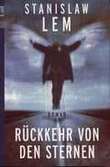 "Return from the Stars" tells the story of an Astronaut returning to Earth after a long flight.  Because of Einstein's time paradox one and a half centuries have passed on Earth.  The Astronaut tries to understand and accept the unfamiliar Earthly civilization that gave up risk for the sake of safety and prosperity.  We are presented with a fascinating vision of "Earth as an alien planet" - in order to live there, the protagonist has to experience anew the problems of the meaning of existence, good and evil, freedom and captivity, aggression and love.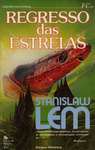 After 10 years in space, astronaut Hal Bregg returns home to find that, in accordance with the laws of Einsteinian relativity, 127 years have elapsed on Earth.  Confronting what is essentially an alien culture, Bregg finds himself puzzled and dismayed by various developments, including Earth's dependence on robots and a medical procedure administered to every human that effectively neutralizes all aggressive impulses.
As always, Lem is dealing with an interesting theme in an absorbing was.  First-rate in all aspects, Return from the Stars is more intellectual science fiction from a very gifted writer.
Lewis Beale, Philadelphia Inquirer
I have some reservations about this book because of sentimentalism and the brawn of its characters. Besides I recognize some traces of Remarque. An author cannot help his characters - only because he likes them. The romance could have ended just like in the novel but under one condition - the heroine should have been a more expressive character. I still consider the idea of "betrization" to be an interesting concept, however I slightly oversimplified its realization. My ambiguous feelings toward this book can be seen in the fact that I gave permission for translation and foreign editions.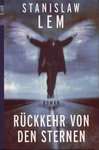 "As a doctor, I really have nothing more to tell you, Bregg; however... "
He hesitated.
"Yes?"
"You are coping in our . . . present way of life?"
"Muddling along."
"Your hair is gray, Bregg."
"That means something?"
"Yes. Gray hair signifies age. No one turns gray now before eighty, and even then, rarely."