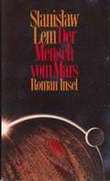 The
Man from Mars
, a novel written in 1946 and published in a pulp fiction magazine, was Lem's debut. His poetry and stories appeared inter alia in "Tygodnik Powszechny" "Zolnierz Polski" and "Kuznica". In 1948 Lem started writing his first serious novel,
The Hospital of Transfiguration
– however communist censorship halted this publication for over eight years. This resulted in Lem's expulsion from the writers' union and created a difficult financial situation. In Zakopane Lem accidentally met the director of the state publishing house "Czytelnik", who offered to publish a science-fiction novel that Lem offered to write for bread. The unexpected success of the
Astronauts
made Lem write further science-ficiton books, which made him one of the greatest writers in the history of s-f.
Apart from novels there are a number of discursive works by lem:
Dialogs
(1957),
Summa Technologiae
(1964), the
Philosophy of Chance
(1968),
Science Fiction and Futurology
(1970),
My View on Literature
.
The beginning of the 70s brought two collections of literary essays dedicated to nonexistent books (
The Perfect Vacuum
and
Imaginary Magnitude
), later accompanied by
Provocation
(1974) and The Library of the 21st Century (1986). These volumes have been published jointly as the Library of the 21st Century.
In the nineties Lem dealt with futurological prognoses. A collection of his feuilletons from "Tygodnik Powszechny" was published as "Short Circuits"; feuilletons from Odra magazine were published as "
Sex Wars
", while the articles from the Polish edition of "PC Magazine" were collected in the volume Moloch.
Stanislaw Lem's works have been collected in three sections: 
Apocryphs
,
Essays
and
Novels
.