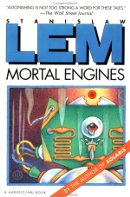 The collection of short stories "Bajki robotów" (The Tales of the Robots) was published in English in two volumes:  "Mortal Engines" and "The Cosmic Carnival of Stanislaw Lem".  


Readers who enjoyed The Cyberiad will also find this book very appealing.

Neil Barron, "Delap's F&SF Review"
Pyron invented the wire telegraph, and then he pulled the wire out so fine, it wasn't' there, and in this fashion he obtained the wireless... Later I visited the hospital wards.  I was introduced to an Old Testament computer that suffered from senility and couldn't' count up the ten commandments... what is attractive in Lem is his view of humanity not as as matter of organic life or biological development, but as a matter of freedom - even if it is a freedom we may not in fact be able to exercise.

Gore Vidal, "The New York Times Review of Books"