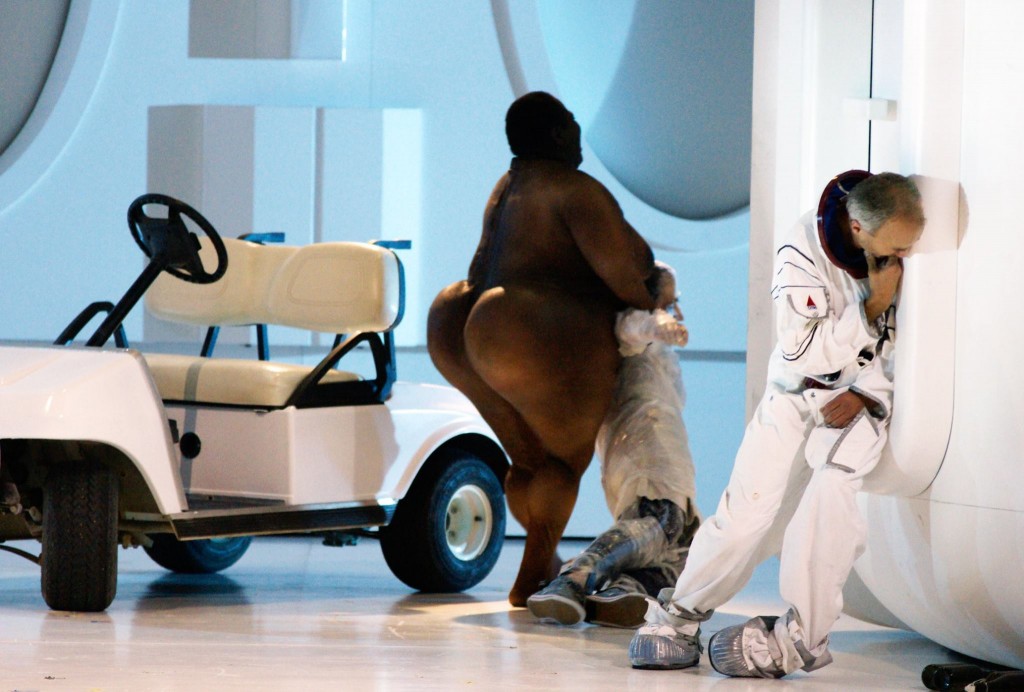 Photo from the opera "Solaris", directed by Detlev Glanert, premiered at the Bregenz Festival (2012).
I was close to the circular chamber from which corridors branched off like the spokes of a wheel. As I was passing a narrow side hallway leading, I think, to the bathrooms, I caught sight of a large, indistinct figure that almost merged into the background.

I stood rooted to the ground. From the far end of the side passage a huge black woman was coming towards me with an unhurried waddling gait. I saw the whites of her eyes glinting and at almost exactly the same moment I heard the soft slap of her bare feet. She had nothing on but a skirt that glistened yellow, as if it were made of straw. She had massive pendulous breasts, and her black arms were as thick as a normal person's thighs. She passed three feet from me without so much as a glance and walked off, her elephantine rump swaying like one of those steatopygic Stone Age sculptures found in anthropological museums. At the place where the corridor curved, she turned to the side and disappeared into Gibarian's cabin. When she opened the door, for a split second she stood in the brighter light coming from inside. Then the door closed softly and I was on my own. I took my left wrist in my right hand and squeezed with all my might, till the bones cracked. I looked around distractedly. What had just happened? What had that been? All at once, as if I'd been struck, I recalled Snaut's warning. What was it supposed to mean? Who had that monstrous Aphrodite been? Where had she come from? I took one, only one, step towards Gibarian's cabin, and froze. I knew only too well I wasn't going to go in there. I sniffed the air with flared nostrils. Something was wrong, something was out of place. That was it! I'd instinctively expected the distinct, repulsive odor of her sweat, but even when she passed a couple of feet from me I hadn't smelled a thing.
"Solaris", translated by Bill Johnston