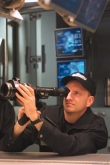 "Film Threat", 18 02 2001
Could you ever see yourself making a big action movie, or branching into a genre that you haven't explored yet?

Well, "Ocean Eleven" is as close to that as I'll ever get. It's, I hope in the best way, a big piece of Hollywood entertainment with a lot of activity in it. It's a great script, and we've got a really good cast put together. But I'm also working on "Solaris", which is science fiction.
That'll be different. Is that the remake of the Russian film?
Yes. That's fantastic.
That's something you're working on right now, development?
No, I'm writing it. What's interesting about it is it's not a hardware science fiction movie, it's a psychological drama that happens to be set in space, and that's what's interesting to me about it.  I'm interested in science fiction, but only in the conceptual side of it. There are hardly any real science fiction movies made today.  They're all about the hardware or selling action figures. Exactly, and my whole pitch to James Cameron's company, because they owned the rights, and it was something I was interested in for awhile, and I said if we do our jobs right it"s a combination of "2001" and "Last Tango in Paris." They said "Oh that sounds good."
Amazing.
I'm excited by it. It's the first thing that I've wanted to write in a long time. I had been writing "Son of Schizopolis" and I put that aside to work on this.
Can you tell me any more about "Solaris"?
Right now you've just secured the rights and you're writing it. I'm using both the film and the book that it's based on. Also, again, there are several preoccupations of my own that I'm laying in. It's funny, I always knew I'd be interested in doing that project, and as I said in pitching myself to Cameron, and John Landau and Ray Sankini as partners. It wasn't until I actually got into writing it that I realized exactly why I was so interested in it. It's turned out to be an opportunity to address some subjects that I've wanted to write about, but A. didn't know that I wanted to write about them, and B. didn't know how to write about them. This is the perfect vehicle for all of them. So, it's been pretty interesting.