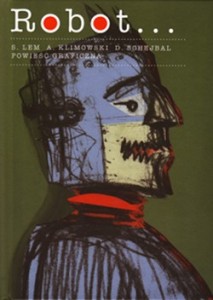 "Timof comics" has published a graphic novel entitled "Robot…" – an adaptation of two stories by Stanislaw Lem. The drawings are the work of a Polish couple living in London. The artists' previous achievements include a well-received comic adaptation of Bulgakov's "Master and Margarita".
Danuta Schejbal, a graduate of the Warsaw Academy of Fine Arts and a stage and costume designer of the Cherub Theatre Company adapted "The Uranium Earpieces" from Lem's "Mortal Engines".
Andrzej Klimowski, a graphic designer, illustrator, painter and creator of animations is a professor at the Royal College of Art, London. His contribution to the volume is the interpretation of the climatic story "The Sanatorium of Dr. Vliperdius" that takes place at an asylum for mentally ill.
The book was published as one of the projects of the Polish EU Presidency Cultural Program 2011 in both Polish and English. A trailer by the artist Agata Wawryniuk and composer Szymon Orchowski is available on Vimeo: